Rolwaling Summits 2003
Please click on the thumbnail to reveal further photographs relating to each subject.
All photographs Copyright Jeremy Poole 2003
We drove for about 7 hours from Kathmandu to Dolakha, where we joined our porters and divided our loads beteen them.

The first part of the journey was through fertile agricultural country, with rice and millet growing in the fields.

This was Maoist Guerilla country and we had no option but to do our bit for "the cause" by making a contribution to their "welfare" fund.

We passed through or stayed at a number of attractive and prosperous villages on the trek. This sequence of photos is of Simigoan, the home or our Sirdar.

We stayed in Beding for a couple of nights before climbing up to consider Chekigo, a really spectacular peak in a great setting.

After Chekigo we spent a couple of nights in Na (no photos) before setting off for the Tsho Rolpa Lake and Glacier. The lake has been posing a threat to villages in the valley below, and significant civil engineering works are under way to make it safe.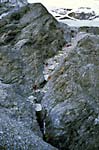 The climax of the trip was a journey up to the Teschi Lapcha (approx 5,700 metres) followed by an attempt on Parchemo (approx 6,250 metres). The photos end there. From here on the journey was mostly downhill, to Thame, Namche Bazaar and Lukla, followed by a flight back to Kathmandu.